To my dear readers:
Welcome to our revised website, www.koreanfeast.com! My last website crashed and, until now, I had trouble reviving it. Thank you for your patience. In this precious space, let us explore the wonders of Korean food as if we are talking and cooking together. Koreans call themselves a "rice and soup eating people." On our masthead is a photo of a traditional Korean metal spoon and chopsticks.
Already ten years have passed since the publication of Growing Up In A Korean Kitchen: A Cookbook,Ten Speed Press, 2001. The response was gratifying. I was overwhelmed. You, the readers, were especially generous in your praise. Most major food magazines and newspaper reviewed the book and were exceedingly complementary. At last, I felt Korean food was receiving the attention it deserved.
When I began research for this book more than 40 years ago, few people, especially in the West, knew anything about Korean food. Truthfully, at that time, I was worried that Korean food might loose its culinary identity. Korean ingredients, sauces and dishes were often wrongly identified with other cuisines. I was very saddened by this because I knew what wonderful food I had grown-up with in my family kitchen. It was as refined and flavorful as any food I had tasted anywhere. I had traveled half the globe enjoying and learning about many national foods. For example, in France, eating Bouillabaisse reminded me of Saengsong Jeongol (Korean Seafood and Vegetable Hot Pot) and Bouf Bourguignon of Galbijjim (Braised Short Ribs). The sight of Formage de tete Porc (Head Cheese) reminded me of the boiled pig's head my mother used to make at feast time. I loved to eat Choucroute Garni (sauerkraut casserole) because it tasted just like our comfort food, Kimchi Jjim (Braised Kimchi). Why shouldn't the world know as much about Korean food as it does about other cuisines? I though maybe I could make a contribution. There were many other reasons for writing this book, but let save them for another time.
Speaking of Kimchi Jjim, I am presently completing a cookbook on kimchi, Korea's culinary identity. I look forward to exploring the world of kimchi with you.
Anyonghi!
Hi Soo
Highlights of what you will find on www.koreanfeast.com

Book Index to

Growing Up In A Korean Kitchen.

Using the search button, you can easily find a particular recipe or ingredient. I am sure you will find the index very useful as it is in English, Romanized Korean and hangul, the Korean alphabet. You will no longer be dependent on my book's inadequate index to find a recipe.
Finding a Korean Market in the United States and Canada is very easy with our new search button. More than 200 markets are now on our list. We welcome your input. If your local Korean Market is not listed, please fill out the form in the Korean Market section and we will include it.
Kimchi Workshop at Lavender Hill, 2012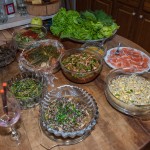 Photos by E. Raymond Bok
RECIPE OF THE MONTH: Hi Soo's Holiday Stuffing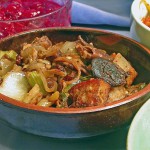 Happy holidays to all! For this joyful season, I am offering you my holiday stuffing that is laced with a special Korean flavor and flair. This recipe is an interesting gathering of worldly tastes, including the usual toasted bread, onions, celery, fresh parsley, raisins and nuts, plus a new comer, the refreshingly and pleasant bites of kimchi. For years, my guests and friends loved it and always ask for the recipe. Finally, here it is. Whether the stuffing is for a turkey, a goose, a chicken or a Cornish game hen, you will love it.
Makes 8 cups
20 minutes to prepare
Ingredients:
2 ounces dried pyogo mushroom, rehydrated, sliced into 1-inch dices
2 cups mature cabbage kimchi, white stem part only, stuffing shaken off, rinsed once, cut into1/2-inch dices and seasoned*
6 tablespoons olive oil
5 clove garlic, skinned and finely diced
1 medium sized onion, cut into 1-inch diced
2 stalks celery, cut into 1-inch pieces
2 large sweet green onions, sliced into 1-inch rings
½ cup walnuts, coarsely chopped
2 tablespoons freshly squeezed lemon juice
Salt and pepper to taste
2 cups farmer's bread, sliced into 1-inch cubes
1 cup raisins
½ cup pine nuts
2 cups fresh parsley, coarsely chopped
1 cup chicken stock
Directions:
Soak mushrooms in cold water for 30 minutes. Squeeze dry well with a paper towel. Transfer to a large working tray and set aside. In a mixing bowl, add seasoned kimchi and toss all well. Set aside. In a large skillet, heat 2 tablespoons olive oil over medium-high heat until very hot. Add diced garlic and sauté until fragrant, for about 1 minute. Add onions, celery, green onions and walnuts. Sauté for 3 minutes, until they are caramelized. Add salt and pepper. Sprinkle lemon juice and toss all lightly. Transfer them to the working tray. In the same skillet, heat 1 tablespoon olive oil over medium-high until very hot. Add bread cubes in one layer and toast until they become golden brown, about 1 minute per side. Turn only once. Transfer to the working tray. In the same skillet, heat 1 tablespoon olive oil over medium-high heat, until very hot. Add mushrooms and kimchi. Sauté for 3 minutes. Add remaining ingredients to the skillet and moisten with stock. Cook for 2 minutes, while stirring lightly. Adjust the seasoning. Now we are ready to stuff any birds. Or bake at side and serve.
*Note: To season kimchi, add 1 tablespoon sesame oil and 1 teaspoon granulated garlic to 1 cup kimchi. Toss all well.